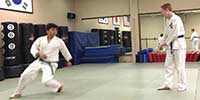 Children Class
Aikido training can help you resolve conflicts nonviolently, improve physical coordination and develop a positive approach to life's challenges.
Aikido is a superb way for young people to develop coordination, confidence, self esteem, self-discipline, and respect for themselves and others.
Students are learning to train with one another -- not to fight one another. They are taught to interact with each other in a positive, noncompetitive manner. Classes may involve stretches, rolling, Aiki Games and Aikido partner practices.
"Aikido is nonresistance. As it is nonresistant, it is always victorious."
Morihei Ueshiba /p>