Who is the Instructor?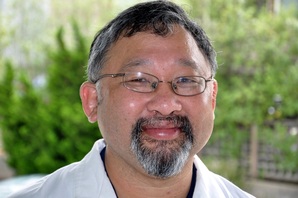 Takashi Tamasu started Aikido in 1980 at UC Santa Cruz. He was fortunate to meet many accomplished instructors such as Linda Holiday, Glen Kimoto, Raso Hultgren, and Dave Hurley. Besides Linda Holliday (Head of Aikido of Santa Cruz), Over the years, he has taught for Aikido of Santa Cruz, Santa Cruz Parks and Recreation, Borland International, UC Aikido Club and founded Aikido of Pajaro Valley.
He started to teach in 1984, and has been involved in Aikido for over 30 years. He started Aikido of Pajaro Valley in 1996 and through the help of his friends was able to teach in Watsonville. He has a 3rd degree black belt in Aikido and first degree black belt in Iaido and continues to teach in the Watsonville area.
Educational Background
In 1980, started learning Aikido at UC Santa Cruz
In 1983, BS in Physics at UC Berkeley
In 1984, started teaching Aikido in the Santa Cruz Recreation
In 1984, also started teaching occasional classes at Aikido of Santa Cruz.
In 1985, BS in Computer Science at San Jose State
In 1988, Started the Borland Aikido Club.
In 1996, Founded Aikido of Pajaro Valley
In 2000, Took over teaching at UC Santa Cruz Aikido Club from Eddie Kasper
In 2010, Masters in Traditional Chinese Medicine
In 2012, Doctor of Medical Qigong and Doctor of Traditional Chinese Medicine (China)
He is a licensed acupuncturist in the state of California and going for his DAOM degree in Traditional Chinese Medicine. He currently teaches Aikido at Aikido of Pajaro Valley and at the UC Santa Cruz Aikido club. He is also an instructor at Five Branches University.